Play Football Legends 2019 HTML5 Game Instruction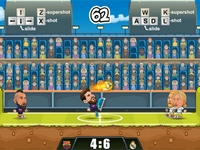 Description
:
Football Legends 2019 is also known as a 2-player big-head football game, where the kids will show their talent and ability to conquer the audience with the most skillful balls. Join Football Legends 2019; players can compete with their opponents to win the ball match.
In the game, you will be participating in the prestigious tournament with the top 20 teams in the world. Side by side with football superstars such as Ronaldo, Messi, Neymar, Ibra, Pogba and many other class players. Are you ready for the fiery match? Let's play Football Legends 2019 and help your team win the championship.
Come to Football Legends 2019, find yourself a club that you love the most. With class players, showing his ability to go the ball superbly. Join the match, confront the top superstars in the strongest clubs today. Entering the match, you should coordinate your skills and techniques to bring the ball into the opponent's net.
Players can choose 1 player mode or 2 depending on the number of players required. Go to major tournaments like La Liga, Premier League… and players will own the top superstars. Show off your clever skills, shots and clever moves to win.
The most popular soccer game in the world can now be played for free. Football Legends 2019 allows you to compete with players from around the world, from totally captivated football fans to those looking for an exciting competition game on their device.