Play Soccar HTML5 Game Instruction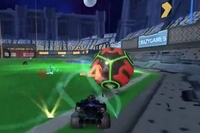 Description
:
Soccar is a soccer game that brings a great combination of driving, shooting and scoring with RC controlled cars and players.
In the Soccar game, you control an RC car as part of a soccer team. This is a little different from your usual soccer game; The teams include RC cars driven by players and AI. Experience this fast-paced, full-action football game in a completely different way by driving a car instead of a footballer. While driving, try to shoot the ball and score as many goals in the given time to achieve victory. The team that scores the most goals within the time limit wins like the traditional game. Avoid rival cars or shoot at them and make some crazy jumps in these two themed arenas. You will need a little time to master the controls, do not be discouraged, once you grasp it, the real fun begins. You will need to master the controls and mechanics because the speed of the game is very fast and fast paced. Shoot any opposing player in your way to gain the upper hand and score as many goals as possible. Moving up levels means new upgrades for your vehicle and lots of incredible moves to master.
Features of the game SocCar
The multiplayer soccer car game is inspired by Rocket League and is free to play
A car can be upgraded when you level up
Lots of great moves to master
Machine guns can be used to dribble and shoot down opponents
Two thematic areas.