Play Happy Wheels HTML5 Game Instruction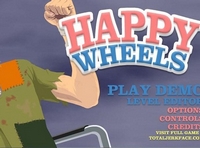 Description
:
Happy Wheels is a funny yet very violent physics distance game. You can choose from various characters like the older man in a wheelchair or the bike riding dad. Go over multiple obstacles and crush other people to reach your destination. Avoid accidents and keep your limbs intact and your intestines inside in this funny game. Prepare yourself for some fun rides and some violent moments in Happy Wheels. The aim of Happy Wheels is pretty simple – try and get to the end of the level in one piece. You can try out some unusual forms of transport, ranging from a wheelchair to a Segway.
The game is best known for its dark sense of humour and its graphic violence. Expect to see a lot of blood and guts. Your goal is to go far across each level without letting your character get hurt. The game is over even the smallest body part injuries. It takes much patience to finish the goal. Is this challenging? Make your best efforts to survive in this glory and funny game.
The game controls are shown just under the main game window, making it reasonably easy to understand and play. Movement mechanisms primarily include acceleration and tilting controls. Happy Wheels features a level editor that allows players to create custom levels of their own. It contains a plethora of tools and objects for level building such as harpoon guns, blocks, and vans. Users can upload their maps to a public server where they are accessible. Assume the role of your adequately prepared racer and ignore severe consequences in a desperate search for victory.