Play IQ Ball 2 HTML5 Game Instruction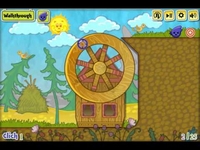 Description
:
IQ Ball is an exciting game that shows your level, challenges, and intelligence. You will only use the left mouse button to play this game. You have to be smart and think about how to hold the mouse to do it. get the little blue ball to stick to other objects so that you touch the white circle.In the beginning, it can do this directly, but then on the long road with many obstacles, you will have to do it indirectly.
There are 25 levels in this game; Each type includes a different terrain. To reach the goal, you need to move the ball through the obstacles.
The game requires players to complete tasks in each stage skillfully. The first player will fail but the feeling of winning will be great when you conquer it.
The ball cannot stick to metal. Watch carefully before performing if you don't want to get stuck and have to play again.
Cute IQ ball with flexible and sticky arms. It can extend its arms to long distance, stick and move. You should find the target location at each level and reach there to advance to the next level. All the physical rules you have learned and the games you have played may be useful here.
With high-quality images, lovely colourful interface and realistic sound, IQ Ball game will give players the most relaxing and enjoyable experience. This is a simple, interesting and worth a game to try. You will not be disappointed because you will definitely like this game.