Play Clickplay Time 2 HTML5 Game Instruction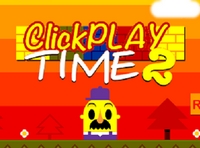 Description
:
Clickplay Time 2 is an exciting intellectual game. With simple gameplay but very addictive game. The game provides more valuable knowledge useful in life.
Clickplay Time 2 has 20 levels, to complete each level of the required game you need to solve different riddles to uncover the hidden play button as quick as possible.
Use your mouse to solve the puzzle. Once you answer the question, you find the PLAY button, click it to go to the next level. Prepare to test your brain in this fun-addicting game. You are sure to see lots of entertainment in this quick and amusing little distraction.