Play Paps Pastaria HTML5 Game Instruction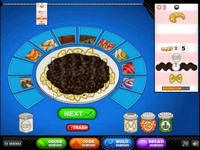 Description
:
Papa Louie is a chef's adventure game to find stolen pizzas. While Papa Louie was having a party with pizza, monsters infiltrated all orders to turn delicious pizzas that were turned into Pizza gooey monsters and kidnapped them all. Both Papa Louie's customers arrive in a strange land.
You are the chef who will go to battle monsters to get back pizza and rescue your customers, even though fighting alone and destroying enemies, but you will fulfill your mission well. , rescue pizzas, and customers for a full party.
You will begin to search for clues of the monsters in a deserted landscape, only you. You can move quickly, jump high, and use parachutes to fly longer distances, use weapons to kill monsters.
Move and collect all the gold coins along the way, and the grenades, use the collected shells to destroy pizza-stealing monsters. The number of weapons is limited, so you need to use them properly; it is best to spend to destroy the powerful monster holding pizza.
On the road, there will be many obstacles are the sections of the way are lined up higher, the monsters with different shapes, elephants can move or not. There are even monsters that can spew out toxins that cover your body, causing you to freeze and lose blood. The monsters that spit out toxins are usually the ones holding your pizza, and you need to find ways to kill them, be aware not to get too close to them and not to be poisoned on people. Other monsters that touch you will also cause you to lose blood.
You are given a certain amount of blood shown in red hearts; if these pictures are lost until the end, you will lose your life. Along the way, there are also hearts; when you collect, you will be increasing the amount of blood.
After you defeat the monster holding pizza, you get enough pizza and go to rescue your customers; you will pass that level and unlock the next level.
There are many levels, each with different difficulty levels, enemies, and different arrangements. Pass all the levels to conquer this exciting game and play our other games.
The game is completely free and compatible with most Android devices, iOS, computers, you can play online or download directly to your computer to play whenever and wherever.