Play My Friend Pedro HTML5 Game Instruction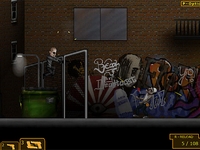 Description
:
My Friend Pedro is a violent ballet about friendship, imagination, and one man's struggle to obliterate anyone in his path at the behest of a sentient banana.
The strategic use of split aiming, slow motion, and the old' stylish window breach create one dramatic action sequence after another in an explosive battle through the violent underworld. Follow your friend Pedro and rush into an adventure full of gangsters!
Jump off walls, roll or slow down time to dodge enemy bullets, and eliminate the bad guys in the streets! Remember to collect new weapons and health kits on your way.