Play Monkey Go Happy 4 HTML5 Game Instruction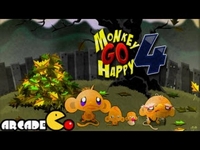 Description
:
Monkey Go Happy 4 is the fourth episode in the previous fun and engaging puzzle series. Coming to the game, you will again have fun to play with a very funny and cute cartoon character, a monkey that always faces sadness. However, you will help the monkey find a bright smile by completing the tasks on each game screen.
In this intellectual game, it will still be a familiar style when you use the mouse to find objects and objects to click on in a certain order to be able to link them together, forming a series of actions, The facts are logical and logical. In this new version of the game, you will help the monkey to perform things like blocking the rail bar and pressing the siren, sweeping the rubbish in the garden, picking apples so the landlord can make cakes, … and very Many other interesting things are waiting for you to discover.
Coming to this original and highly entertaining intellectual game, this is a great game for children and teenagers who enjoy puzzle activities with one person or anyone of any age. Enjoy trying out fun but difficult brain teasers! No time for monkeys around! Let's take action to solve the problem! Can you surpass yourself and win every level of this game?