Play Penalty Superstar HTML5 Game Instruction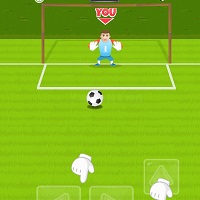 Description
:
Penalty Superstar is a game that allows players to experience the thrill of penalty shootouts in a virtual setting. In this game, players must score goals against a goalkeeper by taking penalty kicks. The game is popular among soccer fans and provides an excellent way to pass the time while enjoying the beautiful game.
You will then be taken to the main menu, where you can choose to play a quick match or a tournament. The quick match option allows you to play a single penalty shootout, while the tournament mode allows you to compete against other players from around the world.
You will be taken to the penalty shootout screen. To take a shot, swipe your finger in the direction you want the ball to go. You can also add spin to the ball by swiping in a curved motion. Be sure to time your shot correctly to avoid hitting the goalkeeper or missing the goal.
During the game, you will also have the opportunity to play as the goalkeeper. To do this, tap the "switch" button on the screen to switch to goalkeeper mode. You will then be able to move the goalkeeper left and right to try and save the opponent's shot.
Penalty Superstar also features a range of customization options, including the ability to choose your team and customize your player's appearance. You can also upgrade your player's stats to improve their chances of scoring or saving a goal.