Play Stick Figure Badminton HTML5 Game Instruction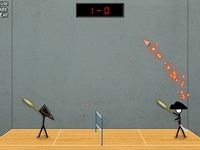 Description
:
Stick Figure Badminton is a badminton game that helps you practice your skills to go online. In this game, you can play with 2 players or in an addictive single-player mode with many different difficulties.
Badminton is a stressful indoor sport in which you hit a small ball to the opponent's court to score a goal. Speed ​​and agility is the key to playing badminton, you will need fast reactions and clever fingers to win each competition.
Have fun and advanced mode, the fun you will use direct mouse control to move the racket, you can move around to a very high position to hit the ball; in advanced mode, you will control the stick player, affecting this player through the character keys on the keyboard to hit the ball. You can play fun mode to practice accustomed to hitting the ball before playing in advanced mode.
You can play against the machine and participate in multiplayer matches with your friends to become the winner by completing all matches and defeating all opponents.
You can control the character rushing across the field, jump through the air, and perform great shots. Each person will be served, people who serve before he has an advantage. When someone scores, he will gain the right to serve so you must try to score.
Each match who scored 7 points before that person will win and the scoreboard is placed in the upper centre of the game screen. Pay attention to the score to adjust your tactics accordingly.
Simple stickman-style graphics game helps players easily understand tactics and how to play. If you are new to playing, you may not be able to control the bridge but only a short time you can play.