Play Stick Figure Badminton 3 HTML5 Game Instruction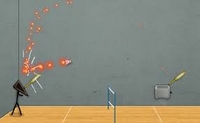 Description
:
Stick Figure Badminton 3 is the third part of the Stick Figure Badminton game. You love badminton, you can't play directly on the field, and this online game will help you play whenever you want. In this game, you can choose the character to play; each character has its characteristics and abilities. After you've selected your game character, enter a friendly match, and score as many points as possible until you reach some points that you are declared a winner of.
You can play against the computer or play with your real friend; the game will help you relieve stress after a long time studying and working. The game is suitable for Android devices, iOS, computers so you can play anywhere. In addition to playing online, you can also download the player whenever you want
If you are new to this game, you can try the previous version to practice the game then join the match with many people.
Each person will have alternating interpolations; the taker can move up and down different positions to serve; the support will choose the path of the ball to fight back correctly.
The match result will be shown by the score of the two teams in the middle of the top of the game screen.
You can move up and down, jump up to perform beautiful shots and the main goal is to fight so that the opponent is not able to fight back.
For beginners, it may be difficult to hit the ball and adjust it in your direction, but just after a period of practice, your ability to hit the ball will increase significantly. Practice hard to beat all the competitors who compete with you and become the best player in this game.