Play Stickman Archer HTML5 Game Instruction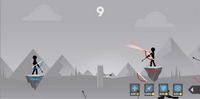 Description
:
Stickman Archer is a fast-paced archery game, You will play as a stick-man archer and destroy the opponent archers quickly and effectively before being killed by the enemy. This is a deadly battle that you must win because they will also shoot arrows at you. Aim carefully and choose your strength wisely because it is harder to hit your enemies than sounds. Aim at the head for extra damage.
Join Stickman Archer game, you will become a stickman with excellent archery skills, you use the mouse to control the archer stick towards the opponent, trying to defeat the enemy quickly or else will be hit. You and the enemy will be placed on two front lines facing each other, the first one to shoot down the opponent will be the winner. If you win, then go to the next level and if you die, play from the beginning.
To be sure to get the victory, you need to aim the shot and take down the opponent quickly so that he does not have the opportunity to export the arrow from the bow. If not, the chance of hitting an arrow from your opponent will be very high.
Every time you kill an opponent successfully, you will get a certain amount of gold. For headshots, the enemy will die immediately and you will get 15 coins, but if you hit another position on the opponent, you have to hit 2 times and get 10 coins. This money will be used to purchase plugins.
Compared to the opponent, you have the advantage of being equipped with a number of useful auxiliaries, including creating a mobile wall between the front line to prevent arrows from firing from the enemy, creating a safe arch to prevent any nose. The arrow flew and froze the enemy before he could release the arrow from the bow.
Features of Stickman Archer
Stickman archery game with physics elements
Simple gameplay: eliminate as many stickman enemies as possible
Arrow charging system.