Play Tennis Legends 2016 HTML5 Game Instruction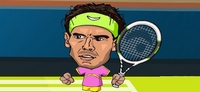 Description
:
Tennis Legends 2016 is a new 2-player Big Head Tennis Championship game! How many tennis players still play tennis and make history, you know? Roger Federer? Novak Djokovic? Rafael Nadal? These are just a few of them that make history in tennis.
Play against all famous players like Serena, Venus and some normal characters! Playing tennis is very interesting with many power-ups and funny transformations, like your opponent, will be a tiny baby in the field. You will definitely enjoy playing Tennis Legends!
A game for one or two tennis players that you can join in a tournament or in simple games. Choose your favourite player and beat your opponent to be the best.
You will defeat the stronger opponents than ever by using your powerful serve and devastating forehand. While matches, bonuses and malus appear, react to benefit or avoid them. For even more fun, you can play multiplayer with friends on the same computer in intense games.
A great tennis game where you can enjoy your time. You can play games against the computer or be a couple. You can play randomly or join tournaments. An interesting game is waiting for you.
A lot of famous tennis players like these three tennis players, are waiting for you with this game. And certainly, as always, this game also has a two-player mode. Call your friend now and start playing entertaining tennis matches!