Play Cargo Bridge 3 HTML5 Game Instruction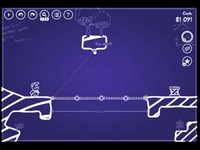 Cargo Bridge 3 is the third installment of the famous Cargo Bridge game with many new puzzling levels, an intellectual puzzle game designed in a unique style that allows players to enjoy Unique creativity while playing freely. This is a fun and challenging physics-based building game.
In Cargo Bridge 3, your task is to transport goods from one area to another by building sturdy bridges according to the standard rules set by the game. Build a bridge and test your building skills. In this version of Cargo Bridge, you need to build bridges with sound structures to transport Christmas gifts back to the sleigh. Build bridges to connect the lands together and transport goods through. Carefully designed and guaranteed all workers are safe. Build solid constructions based on real-world designs. Cargo Bridge 3 game includes many levels, each level will be a new challenge for you and their difficulty will increase gradually with the levels. Cargo Bridge 3 will see you using limited cash to build strong bridges that will assist workers who will transport Christmas gifts back to the sleigh from side to side. Your budget is limited so you have to save and only build what is needed to carry the load, but be careful … if the bridge breaks, the Xmas gifts will be lost forever. Get ready to conquer new challenges, complete each screen in the shortest time you can.