Play Traffic Slam 2 HTML5 Game Instruction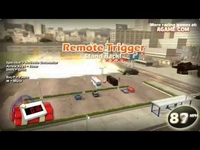 Traffic Slam 2 Traffic Slam 2 is the second part of the Traffic Slam adventure game, this is a really great 3D racing game. In Traffic Slam 2, you are the driver of the hottest car in town and your task is to deal as much damage as possible. Check all available routes to maximize your score and use 'Aerial Time' to join more traffic. This city sabotage game is all about increasing damage points. So go ahead: throw caution with the wind and crash into traffic. Use the detonator to explode! Explore each track to receive hidden rewards to take your path of destruction to a new level.
Use the arrows to drive the car to detonate in the active traffic of the city center. Have a timer for your car to detonate itself. You can also detonate the car by pressing the spacebar, or in a terrible accident. Remember that is not a failure. Points are getting the highest score and money by detonating.