Play Bomb it 1 HTML5 Game Instruction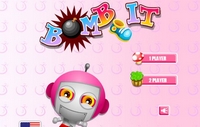 Description
:
Bomb It 1 is a game in the world of Bomb It. You will need to help your character win all levels if you do not want to leave the battlefield in the game Bomb It 1 too soon. Let's explore this fascinating Bomb It 1 to see what's going on.
You will get excited and relaxed when participating in many game modes in the game. Belonging to the classic office game genre, the game has been played by a lot of players and can be said to be one of the best games in this series. You can choose the type of clothes, eyebrows … to create the most satisfactory character, have to control a character that moves. And set bombs to take out the remaining 3 opponents.
There are 3 other game modes besides placing familiar bombs, using weapons to shoot at opponents, collecting enough money before the remaining opponents. Use your skill and agility, delicate disposition to play the game. They are important factors for you to win.
Bomb It 1 is the place where unrelenting battles broke out, and now it is time to unleash strength after a series of days of practicing Bomb It 1, we will compete with thousands of players. Enjoy exploring the unique and fun of this free Bomb It 1 game.