Play Wild Berry Escape HTML5 Game Instruction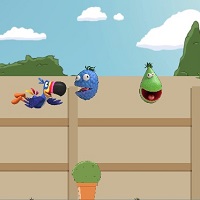 Description
:
Wild Berry Escape is an exciting and challenging puzzle game that will test your skills and wit. In this game, players must help a cute little creature named Blu escape from a forest filled with dangerous traps and obstacles.
The game features a variety of levels with increasing difficulty, providing players with a challenging and fun experience. Each level is filled with puzzles and challenges that must be solved in order to progress to the next one.
One of the unique features of Wild Berry Escape is its beautiful graphics and charming characters. From the colorful forest to the cute little creature Blu, the game is a feast for the eyes and a joy to play.
In addition to its charming visuals, Wild Berry Escape also has a great soundtrack that immerses players in the game's world. The game's music is upbeat and fun, adding to the overall excitement and enjoyment of the gameplay.
Wild Berry Escape is a game that is suitable for players of all ages, and its fun and challenging puzzles will keep you engaged and entertained for hours on end. So why not join Blu on his adventure and help him escape from the forest? Download Wild Berry Escape today and put your puzzle-solving skills to the test!