Play Penguin Diner HTML5 Game Instruction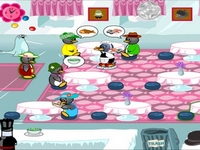 Description
:
Penguin Diner brings a simple simulation game space, taking the penguin like the main character, you have to help the characters in the game Penguin Diner manage the restaurant, run all the jobs and allocate appropriate time.
Compared to other restaurant management games, the Penguin Diner game is a lot simpler. When you play, you do not need to perform too many processing operations. When each guest arrives, we will welcome them to each empty table, then receive the order and bring the finished item to the right guests. Take advantage of this to speed up the process of serving the guests.
In a day of play, the system will give the target amount you have to perfect within the specified time. The number of missions in each day of play will increase, while the amount of time is quite small, so gamers need to speed up the performance of the operations, to be able to bring food to customers as quickly as possible. The number of visitors who spend each day playing has increased, so make sure we do not ignore the requirements of any guests to ensure the amount of money to complete the task.
Visitors to our restaurant can travel alone or in groups of two. The amount of money collected from the guest group will be greater provided you have to accelerate the time to bring food. The speed in Penguin Diner will determine most of the bonuses we receive. The faster the item is brought to each guest, the higher the tip each player will receive.
Penguin Diner game players will become talented managers when running all the jobs inefficient shop. Create a luxury chain of stores in the game Penguin Diner for computers.