Play Death Run 3D HTML5 Game Instruction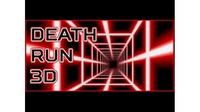 Description
:
Death Run 3D game run in endless 3D space is extremely interesting and for those who love skill games. Your task in the game is to control the dodging character to overcome obstacles by quick response. Your character runs inside a tube, and you can adjust it to the sides or jump up. The obstacles are different blocks, arranged in different positions and the distance between the blocks is very short, which always surprises the player.To avoid these blocks, you need to react quickly and accurately.If you touch the blocks, you will lose and the game will end.
The score is determined by the segment and blocks that you successfully evade. The game shows that your score in the global rankings if you want to achieve a high position, you must score a lot of points to surpass other players around the world.
You can choose the music for the game, with 4 tracks for you: Mael-Strom, Super-Luminal, Hyper Super-Luminal and Hyper Mael-Strom. Each song corresponds to different levels of difficulty, choose a song that suits your ability and practice to conquer all 4 tracks.
Challenging games will bring you many surprises, help you train agility and the game is suitable for all players.