Play Fireboy And Watergirl Kiss HTML5 Game Instruction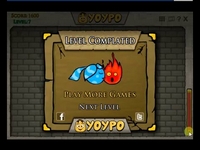 Description
:
You already know the game Fireboy and Watergirl and used to play this game very passionately and excitedly. With stories and situations revolving around two characters representing two very different natural elements, you can participate in the unique gameplay of these two characters. The next version of the game is Fireboy and Watergirl kiss game, you will be with these two funny and lovely characters going into very interesting kisses.
In this free office game, each stage will be different positions for fire boys and water girls. Fireboy will play as a fired bullet that can be fired and hit the walls or moving objects in each level. Your task is to shoot for the boy so that he can reach the water girl in the specified number of wall hits, enough with the amount of energy that the fire boy has. If not, before he could touch the water girl, the fire boy would be gone.
The game Fireboy and Watergirl kiss also need you to show a certain ingenuity, when bringing the fire boy to the wall at the correct angles, watch the number of times bounce and reach the water girl's place without being obstructed by obstacles. Certain moves in each game screen. Try to pass all the levels as quickly as possible because this way, you will enrich the reward points at the end of the game.
If you love these characters, you should not ignore this good and attractive game version. You will have moments of comfort and relaxation with Fireboy and Watergirl kiss.