Play Football Rush HTML5 Game Instruction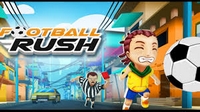 Description
:
Football Rush – Use your defenders to help block the opposition. Test your skills, compete with friends and beat the best teams. Football Rush is a thrilling endless runner that is set in the vibrant Brazil scene in 3D. Are you ready for the challenge?
Players play soccer superstar Jose Wannabe and their goal is to get the highest score possible while avoiding dangerous traffic obstacles. Along the way, they can collect mangoes and collect power to enhance game play.
Dodge, bash and overcome the opposition as you run to victory! Make use of four different powers along the way to help you win! Go down to the 4th and the remaining seconds! Help your team get a touchdown.
You will catch the ball and use the arrow keys to run the player. Your guards will protect you as they can. Try to go to the finish area to score and move to the next level.
Updates and improvements since the last media preview include changing the high jump to more controllable double jump, game center rankings, smoother animations, more UI feedback and Compulsory error correction, balancing and optimization.
Things are getting harder? Don't worry, take advantage of the different powers on the field and grab them along the way to help you win. Use different tactics to avoid being dealt with by your opponent and you will definitely win each game.