Play Kill Time In Office HTML5 Game Instruction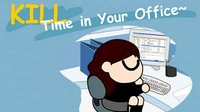 Description
:
Kill Time In Office is an interesting game in which you will help the character kill time until you get home, but you must be very careful so that she will not be caught by the boss. There will be many missions for you in this game. Each activity gives you a different score and takes a different amount of time. There are 7 missions for players to complete in 90 seconds.
She can draw her toenails, she can put her hair on the curling iron, she can use tweezers to remove all the stray hairs in her eyebrows, she can knit, send a message to a friend, blow a bubble gum or wear a relaxing mask. There is a lot of work to be done to kill time, but when your boss comes in, stop doing it and click on the computer; otherwise, you will be punished. Your boss appears abruptly in front of your desk and checks you twice, so you must watch out and act quickly.
For each completed action, you get points added to your score. Try your best to complete as many tasks as possible to achieve the highest score in the shortest amount of time. Good luck playing Kill Time In Office.