Play Hair Makeover Dating HTML5 Game Instruction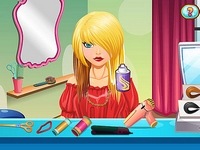 Description
:
Hair Makeover Dating is a high simulation, dress-up game. Donna Hollywon is an illustrator, she hates smoking, and she loves red, orange. In this game, you are a stylist. You will make-up and dress-up for Donna Hollywon to help her become beautiful. Your mission is to help Donna Hollywon have a romantic date with a handsome guy.
In the game, you will have its own page on a dating site, where a photo of your character and its data is present. Accepting the invitation of the virtual gentleman, you have to go to a beauty salon for training. There, you can make beautiful make-up and hairstyle on game instructions. You're tired to be single and you want to mingle! Go on a blind date and have that makeover that will make your date interested with you. Change your hairstyle and dress to impress! Donna Hollywon is an American and she is single. She was too tired of being unique all the time. So, Donna Hollywon found a sweet and rich guy on the internet, and he agreed to meet Donna Hollywon. First, you have to prepare Donna Hollywon's hair. You will pick the tools that the game offers and drag them to Donna Hollywon.
For glamour style, you need to help Donna Hollywon have a ""one sides long curly hair"". Next, you will make up for Donna Hollywon, and you will choose a green dress, flower accessory, small bag, gold sandal, and gold necklace for her. After completing everything, you will have a score. Your score will be based on three factors: hairstyle, make-up, and dress-up. Moreover, Hair Makeover Dating also has many exciting achievements for you, such as ""Tried all hairstyles available"", ""Get 100% score five times"", ""Dating 10 times"". The game has many other exciting things waiting for you. Tips and Tricks: If your score is too low, the handsome guy will not date your girl. If you get stuck, you can click the "?" icon.