Play Maze Race HTML5 Game Instruction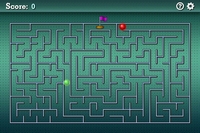 Description
:
Maze Race – Race against the computer with the red ball to reach the flag at the end of the maze.
Loves the creative side of building a maze that includes spatial relationships, problem solving and logic. Add to that the excitement of racing.
Remember that you are a green player and the computer turns red. Finish the maze as quickly as possible because when the red player comes to the flag first, the game is over!
The game includes more than porous walls with a magnetic bottom, wooden balls, two very sturdy trays, a stopwatch and two wooden pegs to examine the maze to find a distance.
Train your eyes to keep track of all dead ends and avoid them as quickly as possible to save time and so you can get to the flag faster.