Play Papa Louie 2 HTML5 Game Instruction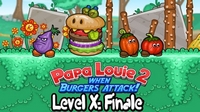 Description
:
Papa Louie 2
Papa Louie 2 is a sequel to the exciting adventure game in which you will be the character that rescues pizza and your customers from the monster's captivity.
First, you will point to your character, name, and see a brief introduction to what happened.
You are selling pizzas at a store, and there are a lot of customers when one person comes and drags you and your customers into the whirlpool and comes to a whole new place. You will have to find a way to find the customers who have been arrested.
Player will fight monsters to save your customers. You have to fight independently with them but are supported in the first place as kitchen . On the slope, step on the animals along the way.
You will start looking for clues of creatures in a deserted forest with many traps and monsters.
Player will move and collect all the gold coins along the way to increase the score, use weapons equipped to kill monsters on the road. You can walk almost everywhere in the forest, move forward or backward, climb stairs, step on the creatures and dragons in it.
Papa Louie 2 game
In the forest, there are many traps and monsters are arranged in different locations to destroy you. The terrain with a difficult journey, you need to move very flexibly to continue. All the monsters and traps will make you lose those red hearts that symbolize your health. But on the way, there are these hearts for you to collect and regain health.
When you complete the roads, you rescue your customers. Player will go to the next level and continue to meet obstacles and other challenges. After each level, you can change your character.
There are many levels; each level has its enemies and traps. Pass all levels to conquer the game and complete each level in the shortest time to become the best player.
You can play online or download and play anytime by the game is completely free and compatible with most computer devices, Android, iOS.