Play Swords And Souls HTML5 Game Instruction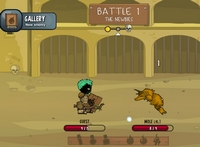 Description
:
Swords and Souls is a new game of Soul Studio, you have to create a hero, train him to fight and set off to fight. Once you are ready, you can fight the heroes in the arena. With the money you earn, you can upgrade your skills and weapons, until you become the greatest hero of all time.
Before starting the game, you can customize your heroes like being able to name them, choose their hair color and armor, and change their face and eyes styles. Once you have created your perfect hero, you can participate in the Swords and Souls. Before you start fighting in the arena, you can practice your skills with instructions puppets, play the Minigames, while increasing your skills, also allow you to unlock achievements and gain experience.
You can train your strength, defense, accuracy and agility. Each type of training you have to complete a different small game. As you level up, you can improve your stats and also learn new moves and skills. In Swords and Souls battles, automatic turn-based combat, your character and the enemy will attack each other until one side is defeated. You have the option of exploiting certain abilities and your character will use those abilities the next time you attack, but otherwise, it will continue to disappear on its own. You are ready to join and conquer Swords and Souls.