Play Bubble Friends HTML5 Game Instruction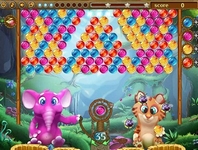 Bubble Friends is a new brain training puzzle game in bubble shooter classic style. The only thing you do is to shoot bubbles! Aim the same color bubbles with the bubble on the launcher. Bounce the ball on the wall to reach the higher bubbles to complete the level with less movement. Various missions and hundreds of levels don't let you be bored and keep you entertained for hours.
Balloons must be released from below the dotted line, and you have a limited number of balloons per level. Some levels contain bamboo, which can be removed. Your score runs down quickly, so it's imperative that you don't waste any time in completing your task.