Play Bubble Tanks Tower Defense 2 HTML5 Game Instruction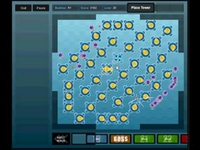 Description
:
Bubble Tanks Tower Defense 2 is a bubble shooter game with quite familiar images and gameplay. Game Bubble Tanks Tower Defense 2 offers 30 magic levels to challenge players and exclusive rewards for the winner.
Your mission in the game Bubble Tanks Tower Defense 2 is to use the mouse to place the towers on the selected grid to protect your tower from the attack with a variety of enemy troops. Use bubble tanks to protect your tower. You also need to pay attention to upgrade weapons in turrets to be able to defend better. Upgrade your tank to equip it with the most modern engines. Build a maze of the terrifying tank towers, strategically arrange them to prevent enemies from escaping from each map's exit and destroy all enemies before they can reach the final in Bubble Tanks Tower Defense 2. While many tower defence games today have started to become embarrassing to give players the freedom to create their maze, not this one. Decoder can send pawns to attract your fire while wreaking havoc on your tower. There are also cursed people who will send ghost tanks when attacked and smart people who can evade your attacks.
Rotate it, zigzag, or come up with some other zany solution, as long as you kill all the enemies before you run out of life. Use your winnings to buy upgrades for better defence.
Game Bubble Tanks Tower Defense 2 offers simple gameplay, adventure with the ball through 30 levels to complete your challenge. There are more than 30 types of bubbles, 5 types of towers in the game. Start immediately to remove all bubbles. Remember to give away a bubble means to lose a life. Kill bubbles to get more money. The game requires the player to have a calculation, make the most of the shots to be able to pass through cards as quickly as possible.