Play Shop Empire 2 HTML5 Game Instruction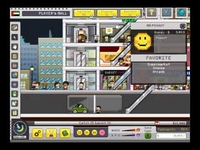 Shop Empire 2 is the second part of the famous Shop Empire game, this is an addictive resource management game suitable for all ages. With lots of new stores, facilities, exciting new parking systems for cars and trains.
In this second part, you will continue to grow your business and build trade centers in cities around the world. Your mission in the Shop Empire 2 game is to build a business empire in which you will be the manager of your restaurant, shopping mall and bookstore. Build shopping malls in famous cities around the world, hire competent employees and continue to pursue the goal of happy customers to earn more money to upgrade. Dominate the world by becoming a business tycoon. India will be the first place where you can start a venture. Succeed in India before you can conquer the rest of the world. Thanks to your extensive experience setting up department stores, you need all over the world to create new stores. You have to start profitable stores with your initial budget and you need to hire cleaning services, technicians and security services. Shop Empire 2 allows you to hire employees to pursue the goal of making customers happy. Manage your time and resources well and be alert for clever thieves and bandits who are rampant in the streets, who are just waiting for the right opportunity to attack. Build a bigger and better shopping center, hire staff to run this place smoothly. Build lots of stalls and sell your product. Perform the tasks and acquire the basic skills you need to succeed in your newly established business. There are new places for you to see, new stores for you to build, and new employees for you to hire. Take the greatest challenge of your life.