Play Red Ball 4 HTML5 Game Instruction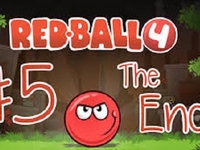 Red Ball 4 is a fun physics-based puzzle game. This game has excellent graphics and fun gameplay.
Your mission in the Red Ball 4 is to solve puzzles by moving the red ball to the goal and defeat enemies along the way. Use the arrow keys to control the ball roll and jump through a starry world and wicked squares. Jump on evil squares to defeat them. Moving barrels and stones will help you climb higher. You can eat yellow shapes when crossing each table, earn stars when conquering evil squares. Each region will have always moving lasers, let's avoiding this deadly laser beams.