Play Shop Empire 3 HTML5 Game Instruction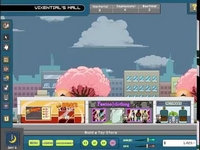 Empire Shop 3 is the third installment in the Empire Shop series! Shop Empire 3 allows you to build a huge shopping mall, add shops, workers, security, and infrastructure. In the game you become a true king and build the greatest medieval shopping mall ever. Make it the largest and most flourishing business center in your kingdom.
Your mission in the Shop Empire 3 game is to build and run a kingdom full of different stalls and shops. Build from weapon shop, to the arena, make all your visitors feel satisfied on your shop empire. Set shops, restaurants and other facilities to build your own shopping empire! Attract people with your business, earn lots of cash, hire employees, book new stores, get great services and be the industry's biggest boss. Manage your store, hire employees from the gatekeeper to protect your store from thieves and vandals. The more stores you have, the more income you will have. Use your money to hire staff and buy more and more rooms and utilities.