Play Shop Empire HTML5 Game Instruction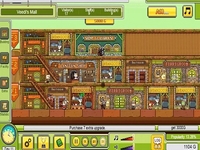 Description
:
Shop Empire is an addictive supermarket management simulation game that is loved by many people, suitable for all ages.
Your mission in the Shop Shop game is to plan your ultimate business strategy, freeing up your hidden skills in trade to dominate Paris, New York or London by building an empire. invent your own store. Complete lots of quests and start by building your first store center. With a little money initially, you should make the store profitable. Then gradually build the largest shopping mall on the planet and become the greatest retail tycoon. Build the largest, most luxurious and highly profitable shopping centers worldwide. Deploy and upgrade shoes, restrooms, elevators and restaurants to make your customers spend a lot of money. Open a new store, hire staff to keep the shopping center running, hire cleaners to keep it tidy, technicians to deal with power outages and security to prevent theft steal. Occupy and build places that sell clothes, shoes, food, entertainment, and shops selling goods and services.
If you try to please your customers, your shopping center will become popular, improve services and build more convenient infrastructure for customers to grow. Build luxury stores and upgrade them to make your customers spend more and more money and become rich. Earn money to upgrade shopping malls and become the true mall mogul. Grow little by little and become a great entrepreneur!