Play Dolphin Olympics HTML5 Game Instruction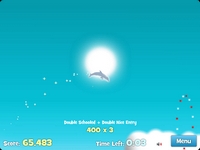 Swimming a dolphin is more fun than you would think. Use only the arrow keys to perform tricks, jump through hoops, make enormous jumps into space. Can you make it to the restaurant at the end of the universe in Dolphin Olympics ?
The sequel to Dolphin Olympics features smoother gameplay, more tricks, and more stuff to see. Score as many points as possible in 2 minutes by swimming and flipping your dolphin. Successful jumps build speed, allowing for bigger and better tricks!