Play Basketball Stars HTML5 Game Instruction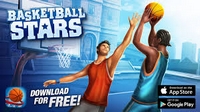 Description
:
Basketball Stars is an epic episode of MadPuffers' amazing basketball legend series. All you have to do in this game is bounce, aim and shoot. There are two modes you can do on your own. You can play one-on-one with an opponent in which you can play left or right to trick and dribble over them to score, if you play as a defender, you will have to snatch it. The ball succeeds from another player and is instead scored.
Take control of your player and comfortably block opponents to knock him down and grab the ball, and pay attention to the super bar at the top of the screen, when it is fully loaded, you can use special hot dunk From wherever you are standing, it never fails.
This game is very interesting for all gamers and it is suitable for players of all ages. Your game character can become a much better player when he gains experience from winning each round and moving forward in the game. Join the game now to have the opportunity to show your inherent talents right away.