Play Happy Snakes HTML5 Game Instruction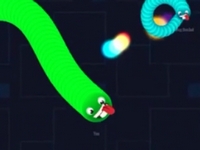 Description
:
In Happy Snake, you play a happy snake. Your task is to control the happy snake and solve other snakes in this fun multiplayer game. You grow the snake by collecting all the glowing dots scanned. A larger size means you can tackle other snakes more easily. Use quick maneuvers and dominate the battlefield.
Get ready to face other players, because they also want these glowing dots. The goal of this game is to collect as many dots as possible to become the most significant player on the map. At the start, you can choose the character skin for your snake among the various options. You can then adjust the size of the map. You have 3 different choices. You can play games with your mouse. Your snake will follow your cursor as you move it around. Sometimes you will need to grab a dot from another player. Click and hold LEFT MOUSE BUTTON to dash. Remember that this will reduce your size gradually. To gain points and increase your size, you should eat dots. The fastest way to grow is to kill other players and eat their corpses. Make them crash into you or other players will kill them. You will also die if you hit other people, so try to be careful when you move around. In the upper right corner of the screen, you can see the rankings.
Characteristics of Happy Snakes
Online multiplayer snake game with happy snakes
Can adjust the size of the arena: small, medium and large
Different snake skin different skin to use
Fast paced game
Mini map to view the locations of other snakes
Colorful 2D graphics.