Play Duck Life 5 HTML5 Game Instruction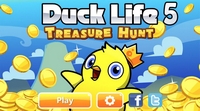 Description
:
Duck Life 5 is a fast-paced game in which kids have to collect as many treasures as possible while moving through a cave full of obstacles. Spend your money in different shops. To enhance the appearance, performance or luck of your duck! After the Fire Duck is defeated, the volcano becomes dormant and the town returns to normal. Now it's time to explore the volcanic cave in hopes of finding a treasure.You are one of them! Race around the cave, fight other ducks and collect coins. They will help you in the cave.Many shops are selling various useful items. After the fire duck is defeated, the volcano becomes silent and th town back to normal. Now, adventurers from around the world come to explore volcanic caves in hopes of finding the treasure. And you are one of them!
In this Duck Life 5 simple insight creates an engaging, cute and almost all interesting thing. Race and run other ducks to explore mysterious temples, find valuable coins and treasures and when you do, improve your running, jumping and flying skills around the tracks. Dodge trap and duck traps compete to gain new space and do it first. Over time, you will become better, faster and smarter until you master Duck Life 5 and become the greatest duck. In DuckLife 5 you are a small duck. Jump, run and fly through caves and collect as much treasure as possible. Can you find any valuable treasures in the online Duck Life 5 game?
FEATURED
- Run, jump and fly through ancient caves as you try and collect as much treasure as possible
- Complete special challenges and become the ultimate cave explorer
- Fast-paced action! Are you fast enough to survive?
- Wear your ducks in crazy hats and give them awesome clothes!
- Lovely pet
- Lovely character
- Outstanding graphics
- Interesting music
- Upgrade your duck with crazy gadgets to help you discover more.