Play Magic Dash HTML5 Game Instruction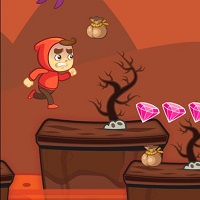 Description
:
Magic Dash is an exciting and fast-paced game that will keep you on the edge of your seat. In this game, players control a wizard as he dashes through a variety of levels, battling enemies and collecting gems along the way.
The game features a unique magic system that allows players to cast spells and use special abilities to defeat enemies and overcome obstacles. Players can also collect power-ups and upgrades to enhance their wizard's abilities, making him even more powerful as he progresses through the levels.
One of the standout features of Magic Dash is its fast-paced gameplay and challenging levels. Players must navigate through a variety of traps and obstacles, making split-second decisions to avoid danger and stay alive. The game is also suitable for players of all ages, making it a great choice for families and casual gamers.
Magic Dash also features stunning graphics and an engaging soundtrack, immersing players in a world of magic and adventure. The game's sound effects and music add to the overall experience, creating an exciting and immersive atmosphere that will keep you coming back for more.
Whether you're a fan of action games or just looking for a fun and challenging game to play, Magic Dash is sure to provide you with hours of entertainment. So why not give it a try? Download Magic Dash today and see how far you can dash!