Play Puzzle Bobble 3 HTML5 Game Instruction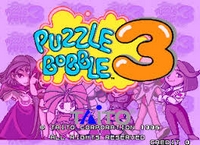 Description
:
Puzzle Bobble 3 is extremely similar in design to other Bust-A-Move games; however, instead of attaching its bubbles to the top of the screen, the bubbles are positioned around ""nodes"". Levels sometimes involve scrolling upwards, and there is also a selection of Bust-A-Move 2 levels included. It also includes the ability to select your character in versus mode.
An enhanced version, titled Puzzle Bobble 3DX was also released, but this skipped Sega's consoles. So you think you've mastered every puzzle game in the universe. Our all-new Puzzle Bobble 3 will have you eating humble pie 'til your gut hurts. But hang in there, after your ego recovers a bit, you'll learn to smash through all the multiple levels of dazzling rainbow spheres.
And when you figure out what it takes to win, challenge friends to a head-to-head and watch them squirm. The gameplay is further varied by the implementation of new scrolling playfields that are several times as high as the screen and must be conquered as an endurance event. Each scrolling playfield occupies the same space on the world map as five previous levels.