Play Red Ball 4 Volume 2 HTML5 Game Instruction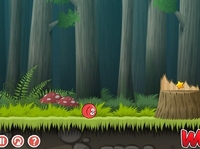 Red Ball 4 Volume 2 is a physics-based platformer game.
The challenging game takes you to strange types of land and traps. Your mission in the Red Ball 4 Volume 2 game is to lead the way to the ball rolling through dangerous paths to the stars and stop evil squares from taking over the world.
Use the arrow keys to move the red ball to his goal and be sure to knock out all the stars along the way.
Roll and jump your way through a deep forest, crush the squares on the way to win!