Play Dolphin Olympics 2 HTML5 Game Instruction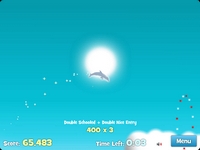 Welcome to Dolphin Olympics 2! Swim around with the dolphin, jump out of the water and make flips while airborne. Don't forget to land nose first! Swim through rings to get more speed and lead fish out of the water to get bonus points. Control "Flipper" with the arrow keys and score as many points as possible in 2 minutes. Enjoy Dolphin Olympics 2 Online!
We use the "arrow keys" to control a dolphin in the big vast ocean, and we have to get as many points as possible within 2 minutes. Our goal is to jump higher and do better tricks while many fishes will accompany us in this little party.