Play Run Ninja Run 3 HTML5 Game Instruction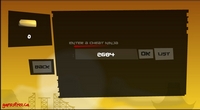 Description
:
Run Ninja Run 3 is the 3rd part of the game Run Ninja Run. This is an extremely interesting game about ninjas. You are walking on the road and catching a person who is being carried by two ninjas in a hammock, then these two guys chase and try to catch you. You need to be very quick to escape their pursuit and avoid the dangers on the road.
Your ninja character automatically runs forward and you need to control him to fly up, jump down, or slide to avoid obstacles like houses, cliffs, ravines, gaps, characters. Other ninjas, animals kept along with countless other obstacles, are arranged and arranged in different ways.
On the way, there is a lot of gold bullion arranged in different positions but you can easily take them. Each level of play has a certain amount of gold and certain obstacles, when you overcome obstacles, you will advance to the next level. Use the amount of gold you earn to buy skill upgrades for you, such as buying high flying ability, sliding, stronger attack ability, buying weapons … Skill upgrades It aims to help you overcome the obstacles on the road, if you cannot buy them, it is very difficult for you to overcome or not to overcome.
In this part, the difficulty level of the game has increased a lot, you must not only avoid obstacles in front but also to avoid the pursuit of the ninja behind or as beasts.
The ninja in the way, you can use attacks or weapons to destroy or jump over them, depending on how you handle, as long as you pass safely.
The game brings many interesting experiences for you, dramatic action scenes and glorious victories, the game keeps you entertained after working and studying stress.
Try to help the brave ninja escape the hostile territory while cruel enemies and dangerous predators are surrounded, sure that you will complete the levels of this extremely interesting game.
The game is completely free and compatible with most Android devices, iOS, computers and it can synchronize between devices, when you sign in, you can play the next level.
Apart from this interesting game, you can also play many other interesting games on our website.