Play Superfighters HTML5 Game Instruction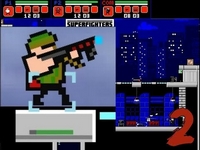 Description
:
Superfighters is an exciting fighting game with retro graphics, great music and intense shooting gameplay. Before starting the game, you can take a tutorial to learn the basics and controls.
Superfighters are all about little men shooting, stabbing, crushing, smashing, burning and blowing into each other into small pieces and then starting over from scratch! Your only goal in this fighting game is the last survivor and you will have to kill each opponent one by one. Shoot them with randomly appearing weapons, hit them with a punch or make them fall into the void. The game is fully configurable and you can choose your arena, the number of opponents controlled by the computer or play with a friend. When you are ready, you can enter the arena and start fighting!
Enter the dangerous arena of skilled Super Warriors to fight against enemies of different scales who want to kill you. Choose between a variety of weapons that will affect your stats and eliminate all enemies. Beware of boxes filled with explosives as they will cause serious harm to your body. You can also choose the option of cooperation to enter the arena with a friend. Fight it in Superfighters and be the last one standing!