Play Mighty Motors HTML5 Game Instruction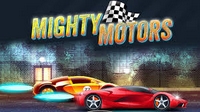 Description
:
Mighty Motors is an exciting rickshaw racing game. Compete with other tuning cars! Get on the pedal and win every race as you conquer all the rickshaw races in your city! Speed ​​up and dominate the city by winning drag-head-to-head races. Make money to buy the best car in Mighty Motors, then this competitive Might Motors street racing game is for you! Buy upgrades to adjust engines, brakes, wheels, rims and more Show off your racing skills in this online game. Some street races are about to start in this cool metropolis Grab the wheel of this car and find out if you can reach the finish line before your opponent does.
Race down the road in Mighty Motors and try to get ahead of your rivals. If you switch gears smoothly and at the right time, you will gain an advantage. Upgrade your car or buy a brand new car. Your opponent will become harder with each race. Can you unlock all the different cities?
Get ready to roar your car's engine in speeding races with Mighty Motors! Compete with other riders and try to get a name in the scene. Many other racing games are also for your mobile phone or tablet.