Play Shell Shockers HTML5 Game Instruction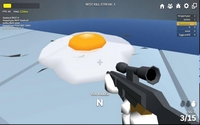 Description
:
Shell Shockers is a multiplayer first-person shooter game with egg characters.
Coming to Shell Shockers, you will be able to participate in the world of super fun shooting eggs with many players. Your mission in the game Shell Shockers is to control a violent egg equipped with a shotgun and enter the arena to destroy the opponent to enrich themselves with golden eggs as the currency in the game. play. The soldiers you will have to fight are three types: Soldiers, Scramble and Free Ranger. The egg fight is exciting and also stimulates your logical thinking. You must strategize for your battle and prepare wisely all your attacks. The idea of ​​using egg characters is to make the game seem less violent than fighting genre games. This is a real-time multiplayer game that has battles with other players from around the world.
In Shell Shockers game you can choose many different guns to kill other eggs, in the game everyone is your enemy, be careful when you reload, the limited number of bullets you have to Take the time to pick up bullets to shoot, if the blood is low, try to hide to a corner of the topic to recover.
Features of the game Shell Shockers:
A large number of weapons: EggK-47 and Dozen measured are the most common types.
Many types of warriors each have their specific combat records.
HTML5 based game.
Great graphics to enhance user experience.