Play Hide Online HTML5 Game Instruction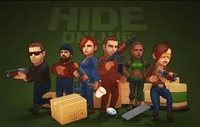 Description
:
Hide Online is a hide and seek game with very unique and attractive gameplay. This game consists of two teams: props and hunters. The first team will be hunters, they will have to find hidden players and shoot them with their weapons. The second team will have to hide by turning into any object on the map. Chairs, cardboard, tables, cups, flower pots, anything will do it as long as you can hide and not be hunted by hunters. Hunters will have to listen attentively and guide themselves with sound and noise to discover hidden players. Hidden players can taunt hunters by making noise to cause errors.
Hide Online game has a design but not too fussy but still relatively beautiful and sharp. Not excellent but not mean bad. Designed on the basis of 3D, the details of the game are carefully cared for, certainly making you feel satisfied. Bright colors, the maximum inspiration for the player. Sound is also an impressive plus. Therefore, you can feel comfortable when participating in the game.
Virtual keys of the game are designed like other action games, left to move and right to perform some operations such as shooting, throwing grenades, … You will quickly get used to the control system. Control easily. Enjoy the game immediately to discover many surprises. Can you hunt them all before your opponent does in this weird and wild multiplayer action game?