Play Road Of Fury: Desert Strike HTML5 Game Instruction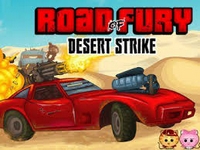 Description
:
Take on a critical mission in Road of Fury: Desert Strike. Fight against the gangs that dominate the area and defeat your boss Duke. Control the heavy-armed vehicle in the desert and try Try to survive. Play Road Of Fury Desert Strike for free and enjoy.
Road of Fury: Desert Strike is an exciting platform game with the upgrade and driving elements. You drive a fantastic vehicle equipped with a heavy assault gun, chase the evil knight gang through a series of barren landfills. Your cannon automatically shoots, you just aim the gun and try to knock down the gang members as quickly as possible.
At the end of each run, you can return to the garage and upgrade your vehicles and weapons. You can increase the HP and firepower of the assault gun. Finally, you can add high equipment to your cars such as airstrips and invincible shields. Try to go as far as possible and unlock new areas. Can you conquer the knight gang and bring peace to the landfills?
Grab wheels and free hell in this Mad Max-inspired shooter. Screens full of rockets, rockets, drones, bicyclists, and mayhem are a unique sight in Road of Fury: Desert Strike.