Play Basketball Master 2 HTML5 Game Instruction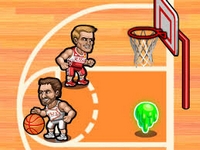 Basketball Master 2 is a cool game you can play for free online and it's safe for younger players to enjoy. Again you will go to the streets of our city and take part in competitions between teams on street basketball. This game has won a lot of sympathy for ordinary boys and they spend a lot of time playing it on the sports field. Your task is choose the perfect angle and set aim for a number of free throws headed straight for the net.
If you are able to score a set number of shots then maybe you can be declared the new basketball master. This episode of the game has 40 new challenging levels that will definitely put your skills to the test. There are obstacles like blocks of wood and ice to prevent your from scoring. But you can break them and score by adding more power to your shots. Good luck!