Play Blosics HTML5 Game Instruction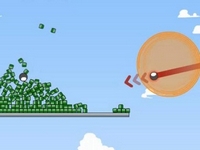 Description
:
In Blosics, your task is to shoot down the colorfully painted blocks stacked on top of each other. It sounds simple, but be careful, these blocks have the ability to survive and transform into architectural blocks that are harder to destroy. They can speak and use a few tricks to survive after each round of bullets. Therefore, you will have to use all your strength to eliminate them. Try to find weaknesses and hit to destroy them quickly.
There are 13 different types of shadows for users to complete the task. Each type of ball has special abilities such as magnetic force, firing technology like a rocket, exploding outside or with superpower balls, you will scan the cubes with super strong force. During the game, try to earn lots of stars to unlock new types of balls and other useful features. Look for the right strategy to eliminate as many cubes as possible.
4 stages: Floating in the sky, dive underwater, explore caves, explore outer space.
When you are playing the level, the screen will show how many of the three stars you have achieved at that level so far, plus how many more points are required to get to the next star. You don't necessarily have to get all the blocks to get three stars and if you get stuck in hard levels you can come back after you have unlocked the stronger balls to get a crack. other.
Features of Blosics
120 different levels.
4 themes
New: 30 challenges
4 stages
Smooth graphics
Sharp simulation
Support HD display.
13 different types of strong and weak balls
2 management options