Play Epic Battle Fantasy 3 HTML5 Game Instruction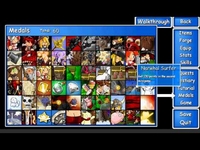 Description
:
Epic Battle Fantasy 3 is a stolen power-seeking adventure game of three hero characters Matt, Natalie and Lance. They will go looking and have to fight the monsters to find the stolen power. They are from their homes, looking everywhere for clues and asking people along the way, talking to them for information. You will fight more than 70 types of monsters, collect more than 80 types of equipment and use more than 80 skills and spells.
The three characters will go together, talk to the NPC to receive quests along with valuable information. They will battle monsters to collect items and complete the missions of NPCs.
Monsters will appear when you meet and are ready to fight. Monsters can have 1, 2, 3 or more in number along with different abilities, they will perform attacks on you in turn until you or they die.
On your side, you will choose one of the skills from the battle menu and target to attack. Each character you own has different weapons and skills. The skills and items and magic they share and will work effectively depending on the enemy. Therefore you need to use the skills properly with magic … You can use the ability to increase HP or MP, increase the ability to fight or protect a character from the attack of enemies.
HP is the highlight and MP is the magic point of each character. If you run HP points, you will die and will be revived with coffee or revived, and you need MP to create magic. When you win each battle, you will receive rewards to help strengthen the characters. You will also receive EXP (experience points – help your character level up) and AP (ability points – help them learn new skills and upgrade old ones). You can also upgrade equipment, add elements to attack, increase the power of certain skills and other rewards.
An exciting fighting game with many unique abilities of each character, giving players exciting moments to help you kill time very effectively.
The game is compatible with Android, iOS devices, computers and you can download your device to play anytime, anywhere, even when you do not have an internet connection.