Play Bloons Tower Defense 2 HTML5 Game Instruction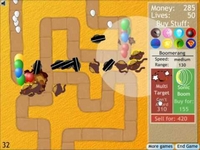 Description
:
Bloons Tower Defense 2 is a pretty cool and interesting strategy game, it describes the defensive battlefields you set up to be able to defend the escape of balloons with speed, so you have to It is possible to arrange the location so that the balloons cannot reach your battlefield.
In the game Bloons Tower Defense 2, your task is to control the monkey using arrows to shoot the balloons that are plotting to invade and disturb the earth. In addition to the monkeys, you also have the right to use other weapons to install on the way such as sponges with many sharp spikes, multi-barreled rifles, freezing equipment, bombs, … to increase the effectiveness of tons. better work. The road to the winding city, creating favorable conditions for you to display the battle of ambushing the balloon army, installing traps and weapons in very smart positions to be able to shoot as many balls as possible. Once you have a lot of bonus points, you can level guns and other means to destroy balloons. The game has 5 types of brown monkey weapons, nail guns, bangers, cannon, super monkeys and you need to arrange these weapons reasonably to win.
Bloons Tower Defense 2 game is divided into 3 different levels: easy, normal and difficult, each level has many levels with increasing challenges, the more the ball later, the more interlocking makes it difficult for you. ; But the harder, the more attractive the desire to win is not it! Although the game interface is quite simple, not as picky as the great stick battle game, but with unique and creative content, you will definitely be fascinated and do not leave the screen until you win.
End of a week of hard work, reward yourself with a few hours of fun and fun with the lovely monkeys to kill the bubbles, relax mentally and energize excitedly for a new week.